Take the following steps to gain access to the Whiz Connect US portal.
Account Creation
Once you have been added to the Whiz Connect US Portal, you will receive an invitation email. Click Confirm my account in the email to finish creating your account. You will have 14 days to create your account after receiving the email.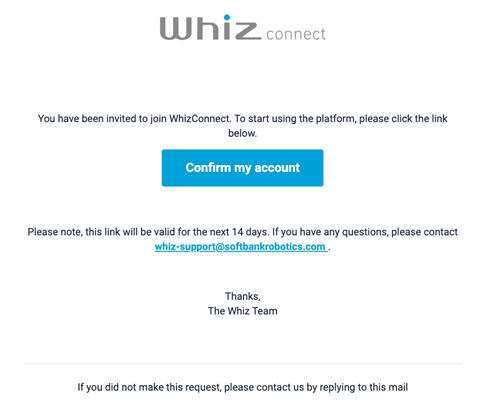 Creating a Password
After being redirected to the Whiz Connect US Portal, you will be asked to create a password to finalize your account creation. Click the arrow to confirm your password.
Password must meet the following criteria:
At least 1 Lower case letter (a-z)
At least 1 Upper case letter (A-Z)
At least 1 Number (0-9)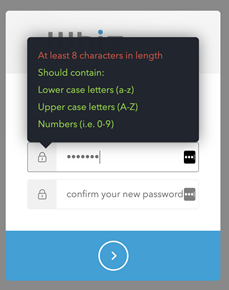 Account Creation Troubleshooting
The link to create an account will expire after 14 days. If you let the link expire, contact support at whiz-support@softbankrobotics.com and let them know you need to be invited again to the Whiz Connect US Portal. Include your name and email.
Reset Password
If you need to reset your password, click Don't remember your password? from the log-in screen. An email will be sent to your account to reset the password.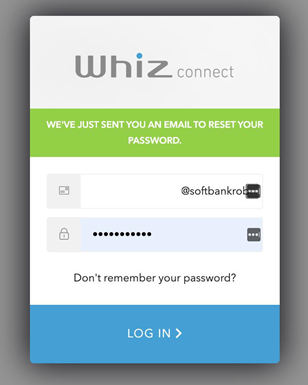 From the email, click Reset Password to reset your password. You will be taken back to the Whiz Connect US Portal to finish the password reset.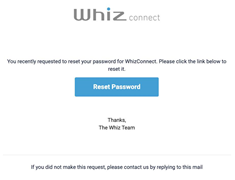 Enter a new password and confirm it before clicking the arrow at the bottom of the screen to confirm.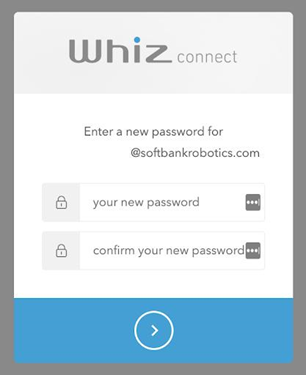 If your password follows the criteria and is accepted, you will receive a notification that your password was successfully reset.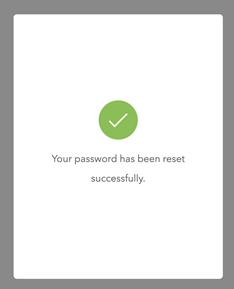 Account Types
Customers use two types of to access Whiz Connect. General user accounts have the basic set of permissions, while admin accounts are granted the basic permissions, as well as additional permissions outlined below.
User Accounts: Log in/Log out, customize report settings, view reporting data, download reports, and view and access documentation. Can view their company only.
Admin Accounts: View and update locations; create, view, update and delete ROI information for each location; view robots' location; create, view, update, and delete users; and view and access the consumables store. Can view their company only.
Log-In and Log-Out
On subsequent log-ins to the portal, go to https://whiz.sbra-automation.com. Enter the email you used to sign up and the password you created on your first visit into the corresponding text fields. Click Log In or press enter.
To log-out of the portal, locate your name in the upper left sidebar. Below your name, click Log-Out to leave the portal. You will be redirected to the log-in page upon logging out.