How do I use Manual Cleaning mode?
Clean by operating manually. In areas along a wall or the like, that cannot be cleaned autonomously, clean in manual mode.
Press the main power switch (I/O) to turn it on (I)





Pull the steering handle up as far as it will go, and lower it toward you






Use the vacuum power button to start cleaning. Press the Max Power button for extra cleaning in high-traffic areas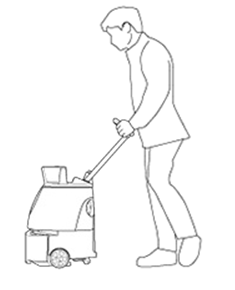 The machine is designed to be moved forward to clean floors; do not move the machine backward.
During cleaning, do not bring the machine near slopes, platforms, elevators/escalators, or other obstacles.
Contact the administrator immediately if the machine is damaged or is operating abnormally (such as vacuum failure or the sound of an air leak).